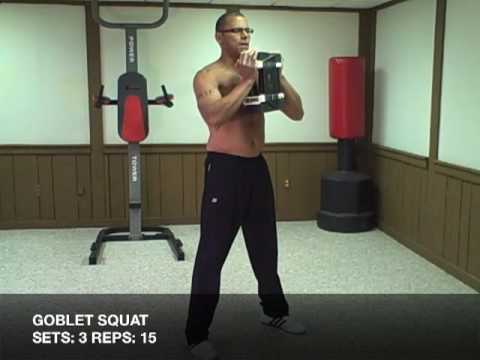 Men Fitness Dumbbell Workout By Steve Cotter  Review
I decided to do a video about on this routine because, as of late I have been putting a lot of long hours in at work. (15-17 hours) My time is limited. This routine gave me what I needed to maintain what I have worked so hard for. It can be found int the March 2010 issue of Men's Fitness WWE Chris Jericho is on the cover, the issue also has  a really good chest routine. I gave it a four star rating because I felt it could have been a little bit more intense. However for a 30 minute workout it is solid.
The Dumbbell Workout –
Perform 3 times per week, rest a day between each session.
Time needed 30 minutes.
Exercises
Floor Press
Sets: 3 Reps: 10
Get Up Situp
Sets: 2 Reps: 5 (each side)
Renegade Row
Sets: 3 Reps: 10 (each side)
Goblet Squat
Sets: 3 Reps: 15
One Arm Push Press
Sets: 3 Reps: 15 (each side)
Single Leg Deadlift
Sets: 3 Reps: 8 (each side)
One Arm Swing
Sets: 3-5 Reps: 15 -20 (each side)
To increase the intensity for this workout shorten the rest between reps from 60 seconds, to 30 seconds or 15 seconds.