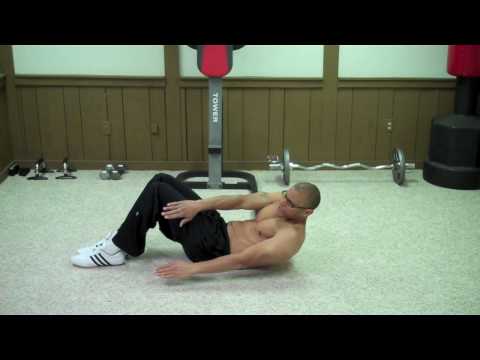 Maximum Fitness 3000 Abs Workouts
By Myatt Murphy , CSCS Programming by Jerry Kindela
The May / June issue of Maximum Fitness is exploding with tips and workouts to get you back into shape for the beach or whatever you need to look good for. The 3000 Abs Workouts by itself makes it worth going out to get a issue.
I gave this workout 5 stars, 18 exercises 3000 possible workouts, Maximum Fitness delivers a comprehensive ab
workout that will keep your stomach muscles confused and burning.
The way it works mix and match two exercises from Lower Abs, Upper Abs, and
Obliques. Select only 1 Core exercise.
Workout two to three times a week.
Don't repeat exercises, the objective is to keep your muscles
guessing and burning by hitting them at different angles.
Avoid this workout on days you work back and legs.
Back and leg workouts engage the same muscles groups that you will
use in these exercises.
For the first three sections:
Lower Abs, Upper Abs and Obliques.
Reps Weighted exercises – 8-12 reps 2-3 sets
Non Weighted exercises – 12-15 reps 2-3 sets
Lower Abs – Choose 2
Reverse Flat Bench Crunch
Hanging Leg Raise
Dumbbell V-Up
Physioball Leg Raise
Scissor Kicks

Upper Abs – Choose 2
Weighted Dumbbell crunch floor
Weighted or Reaching Crunch ( Stability Ball)
Angled Weighed Crunch ( Stability ball)
Kneeling Cable Crunch
Physioball Cable Crunch
Obliques – Choose 2
Oblique Crunch
Reaching Crossover Crunch
Twisting Leg Raises
Oblique Crunch
Lying Twist with Medicine Ball
For the Core section:
Choose one exercise perform for 1 set –  1 minute, work up to 3 sets  – a minute each.
Plank
Side Plank with Dumbbell make sure that you do both sides.
Bird Dog
Hold each side for 3 – 5 seconds.
Remember diet is also key when trying to get your six pack ripped and in shape.
Pick up this month's issue of Maximum Fitness for the rest of the article and advice on getting your six pack abs.