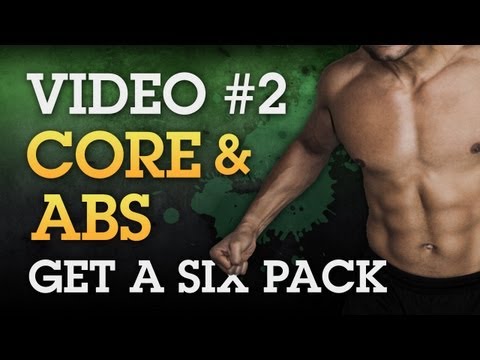 The second video in what I plan to be an ever growing library of exercises that focus on getting and maintaining a ripped six pack. These exercises can be used as a complete routine or added to your
library of Core and Ab exercises.

The 125 Challenge
One of the hardest things to do is get motivated and stay motivated when it comes to exercise. So I put together a complete core workout and challenge for you. I want you to challenge yourself, see if you can perform each of the 5 exercises back to back for 25 reps each. Giving you a total of 125. Go to my youtube channel and submit a video of you doing the exercises and
inspire others.
*Note that the Side Bridge Reach is to be done on both sides I consider this one exercise. Reps are not reflected in the total reps counted.

Ab exercises covered in this video –
1. SpiderMan push up
2. V-Up
3. Side Bridge with reach * 25 Reps on each side.
4. Squat thrust Press
5. Reverse Crunch
Here are some suggestions on how you can pair and add these exercises into your routine.
1. The 125 is a great solution if you don¹t have a lot of time to put into your AB workout. It should only take about 10 minutes to complete.
2. Choose three exercises and add them to the end of your workout.
Possible applications:
3 or 4 sets of 10 to 15 reps:
Perform each exercise as straight sets. Resting 15secs between each set.
Note that resting for short periods of time between sets burns more calories
and fat.
Perform 3 or 4 set Circuits
Perform each exercise back to back for 30 seconds.
Rest for 15 seconds at the end of each exercise until you complete 3 or 4
circuits.
Total Core and Abs exercise
1. Around the world  Shoulder and Core
2. Straight Bicep curl  Arm and Core
3. Abs Roll Out  Abs and Core
4. Shoulder Push Press  Shoulder and Core
5. Plank  Abs and Core
6. Spiderman push up  Chest, Hip Flexion and Core
7. V-Up Lower Abs
8. Side Bridge with reach Oblique and Core
9. Squat thrust Press Full Body
10. Reverse Crunch Upper Abs
WARNING: All information on this site provided is of a general nature and is furnished only for educational/entertainment purposes only. No information is to be taken as medical or other health advice pertaining to any individual specific health or medical condition. You agree that use of this information is at your own risk.
Leave a Reply