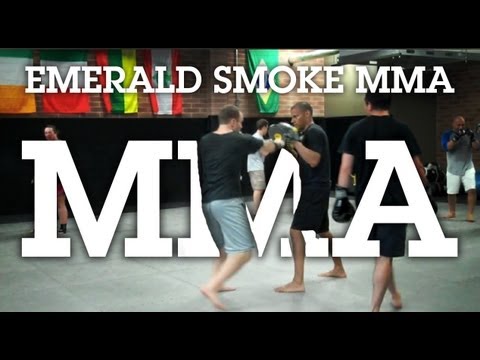 Mix Martial Arts is a passion of mine. It's a sport I can watch never
knowing the out come.  MMA has been around since late 19th century,
MMA schools have finally become more mainstream. Emerald Smoke MMA is
located in convenient downtown Chicago.
I decided to try the Muay Thai class first get a feel for the gym and
the people who run it. The owners Collin and Lesile Williams decided to open Emerald Smoke
due to their dissatisfaction of local gyms in the Chicago area. They
wanted a gym that taught the different aspects of MMA and focused on
fitness.  Collin and Lesile sought like-minded instructors who shared
their passion and goals. Thus Emerald Smoke was conceived.
The culture of a gym is especially important to me. Frankly I don't
want to workout in an environment that lacks passion for what ever is
being taught or done. Emerald Smoke's culture of passion comes from the top down.
In my opinion anything founded on passion is something to be part of.
You can teach some one a skill and give them knowledge but you can't
give some one passion.
You either have it or you don't.
This is part 1 in a series of videos about Emerald Smoke.  I
cover the MMA class with Mike Bodziach, professional fighter, personal
trainer and general manager.
Mike teaches MMA techniques while delivering a killer workout. He
pushes every bit of sweat out of you making you finish the class with
a serious sense of achievement.
Stay tuned for more Emerald Smoke MMA.
If your in the area Emerald Smoke has a Try a class for free policy.
711 West Grand Avenue
Chicago, IL 60654
(312) 666-5107
WARNING: All information on this site provided is of a general nature and is furnished only for educational/entertainment purposes only. No information is to be taken as medical or other health advice pertaining to any individual specific health or medical condition. You agree that use of this information is at your own risk.
Leave a Reply