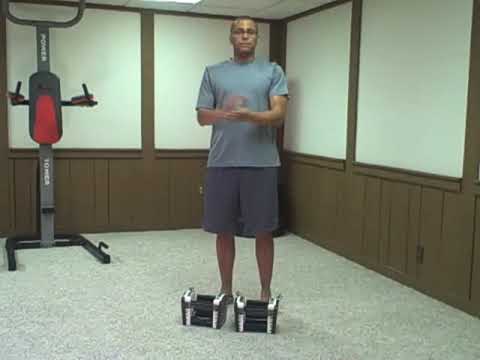 Notes: Today's workout was tough, FitnessBuilder kept up it's end by naming today's routine 10 of the Toughest. The workout keep me  pushing through the
last reps, keeping my balance and wondering how am I going to finish.
Exercise of the Day: Kneeling Reciprocal Press shoulder exercise. I noticed I forgot to mention the Kneeling part of this exercise in the video.
This exercise is a tricky one, take you time to get your balance.

Workout Time: 1 hr 21 min

10 of the Toughest, Workout 1
Overhead Squat / Double Push Up / Sotts Press / Side to Side Pull Up /Kneeling Reciprocal Press
Chair Dip / Hanging Side Leg Raise / Turkish Get Up / Uni Pike / Star Side Bridge
Summary: 10 of the Toughest, Workout 1. It was tough and challenging. I came away from the routine with a sense of accomplishment. I think that is one of
the best things I can ever say about a workout routine. See you next week.
WARNING: All information on this site provided is of a general nature and is furnished only for educational/entertainment purposes only. No information is to be taken as medical or other health advice pertaining to any individual specific health or medical condition. You agree that use of this information is at your own risk.
Leave a Reply