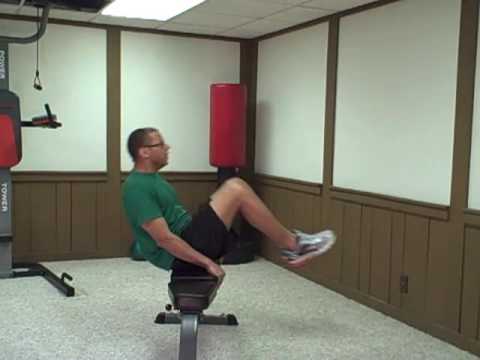 FitnessBuilder Week 9.
Notes: It time to dedicate some time to getting my abs to come out and say hi. Watching what you eat is a important factor in seeing your abs. Today's ab routine left me grimacing through reps and enjoying the burn. Check out my exercise of the day and feel the burn for yourself.
Workout Time: 44 min 44 sec
Best Ab Exercises, Workout 2
Windmill / Bench Jack Knife / Lo-Hi Chop / Alternate Leg Lowering /Front Bridge / Turkish Get Up / Core Rotation/ Chair Leg Raise / Lower Body Twist / Negative Crunch
Exercise of the Day: Bench Jack Knife ab exercise. Want to get cut up? The Bench Jack Knife will do it, I felt the burn in the five reps. Great exercise you can do between reps if you're in a burning calorie mood or short on time. See you next week for more FB reviews.
WARNING: All information on this site provided is of a general nature and is furnished only for educational/entertainment purposes only. No information is to be taken as medical or other health advice pertaining to any individual specific health or medical condition. You agree that use of this information is at your own risk.
Leave a Reply