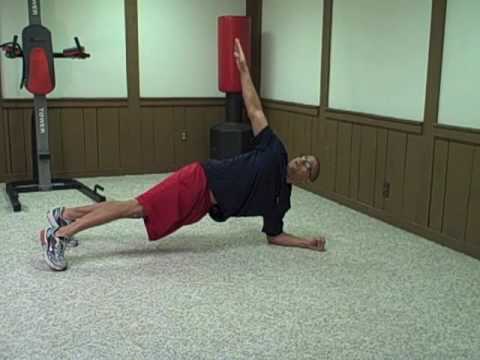 FitnessBuilder Week 12.
Notes: I like working out my total body and FB has a great series of total body workouts. Four levels of body sculpting muscle burn. Total Body, Level 4: Intensive
really pushed me.
Workout Time: 53 min 51 sec
Total Body, Level 4: Intensive, Workout 10
Deadlift / Push Press / Wide Grip Pulldown / Reciprocal Incline Press / Step Up/ Crossbody Raise / Dips /Reverse Curl /Lo-Hi Chop / Front Bridge to T


Exercise of the Day: Front Bridge to T lower back exercise. I can't emphasize how important it is to make sure you hit all the muscles in your body. Remember all the muscles in your body work together so that you can do the most basic things. It makes sense to develop them that way also.
WARNING: All information on this site provided is of a general nature and is furnished only for educational/entertainment purposes only. No information is to be taken as medical or other health advice pertaining to any individual specific health or medical condition. You agree that use of this information is at your own risk.
Leave a Reply