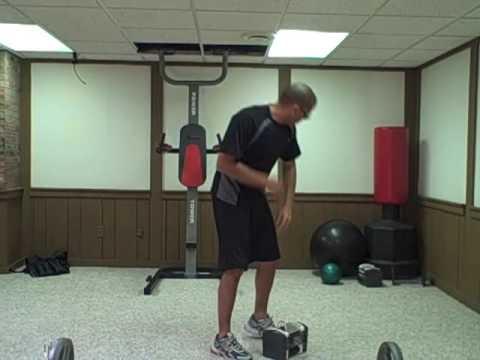 FitnessBuilder Week5
Notes: Today's routine was defiantly a muscle builder leaving me grunting through the last few reps, pushing myself.  I think a lot about the future when I exercise how my kids will one-day use the equipment that I am using now. And will be right there besides them pushing iron and sweating it out.  Next week FitnessBuilder 5×5.
Workout Time: 55 min 15 sec
Boxing Strength & Endurance: Workout Power
Hang Clean / Box Jump/ In Out Push Up / Tuck Jump / Uni Push Press / Lateral Jump
Exercise of the Day: Uni Push Press a shoulder exercise that helps you get a little bit more power into the motion with the help of your legs. FitnessBuilder allows  you to mark exercises so that later on you can build your on routines. I marked the Uni Push Press as one of my favorites, I am going to build a shoulder blaster routine to share later.  Give the Uni Push Press a try.
Summary: Boxing Strength & Endurance. These routines will help prepare your body for battle. It is one  my favorite FB workouts it is versatile and challenging. Share your thoughts with me if you have done it yourself.
WARNING: All information on this site provided is of a general nature and is furnished only for educational/entertainment purposes only. No information is to be taken as medical or other health advice pertaining to any individual specific health or medical condition. You agree that use of this information is at your own risk.
Leave a Reply