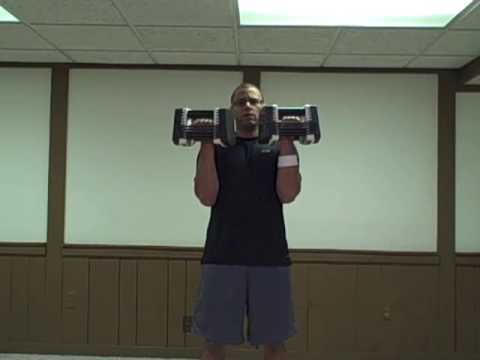 FitnessBuilder week 6.
Notes: Second day of working out heavy. I am amazed even with more weight, I am still completing my reps. It's definitely an ah ha moment. I am truly happy with the results. Looking into weight lifting shoes, not truly sold on the idea that I really need them. Check out this forum I found on the reason to get them.

Workout Time: 45 min 14 sec
5×5: Workout 2
Front Squat  / Twisting Bench Press / Close Grip Pulldown / Arnold Press / Side Lunge
Exercise of the Day: Arnold Press shoulder exercise with a wide range of motion that hits the shoulder muscles from different angles while raising and lowering the dumbbells.  The Arnold press is a great way to change up your shoulder routine it is a  must try exercise.
WARNING: All information on this site provided is of a general nature and is furnished only for educational/entertainment purposes only. No information is to be taken as medical or other health advice pertaining to any individual specific health or medical condition. You agree that use of this information is at your own risk.
Leave a Reply