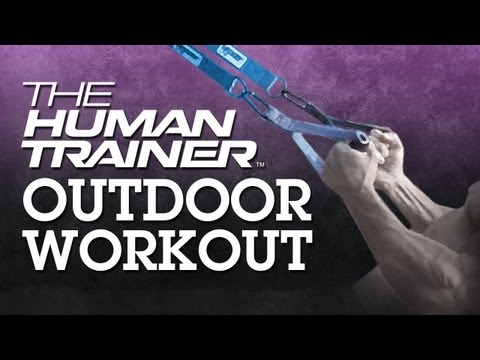 In this video I take the Human Trainer outside for some sun and a solid outdoor workout.  I cover fourteen exercises that you can do with the multiple attachments that the Human Trainer offers. The workouts can be made easier or more difficult by simply changing the angle of your body.  Take advantage of the fresh air and change up your routine while summer is still here. Stay tune for more Human Trainer videos.
Human Trainer Outdoor Workout
Perform 3 sets, 6-12 reps
Rest 30-60 seconds
Planks perform 30-60 seconds
1. TWO ARM BICEP CURL
2. TWO ARM SQUAT
3. ONE-LEG REVERSE LUNGE
4. REVERSE FLIES
5. TWO ARM ROWS
6. CHEST PRESS
7. OVER HEAD TRICEP PRESS
8. CHEST FLIES
9.PLANK
10.FOOT CRADLE TWO KNEE PULL IN
11.FOOT CRADLE ALTERNATING KNEE PULL IN
12.HAMMER GRIP PULL-UPS
13.AB STRAP ALTERNATING BENT KNEE RAISE
14.AB STRAP TWO KNEE RAISE
Click here to purchase the Human Trainer.
Check out my full review of the Human Trainer.
WARNING: All information on this site provided is of a general nature and is furnished only for educational/entertainment purposes only. No information is to be taken as medical or other health advice pertaining to any individual specific health or medical condition. You agree that use of this information is at your own risk.
Leave a Reply