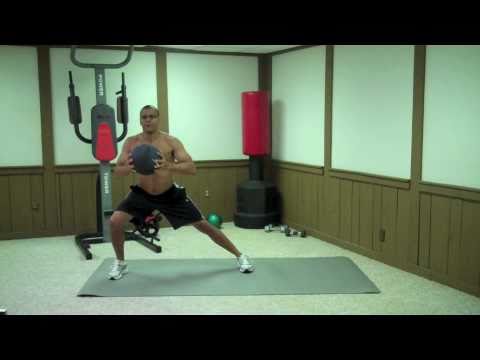 If you have a Medicine Ball around the house and you haven't used it in awhile dust it off and try out this full body circuit.  
Medicine Ball Power Moves consists of ten moves that will tone your
muscles, get your heart rate up, and burn calories along the way.
Remember intensity is really important.  Try this routine out and let
me know what you think.
Suggested frequency 2 to 3 times a week. You can make this routine
harder by performing each exercise for 1 minute instead of 30 seconds..
MEDICINE BALL POWER MOVES
1. MEDICINE BALL HOP
2. MEDICINE BALL SQUAT THRUST/PRESS
3. ROLLING BALL PUSH UP
4. MEDICINE BALL RUSSIAN TWIST
5. MEDICINE BALL SHOTGUN
6. MEDICINE BALL PUSH UP
7. MEDICINE BALL CHOP
8. MEDICINE BALL SPLIT JUMP
9. MEDICINE BALL SIDE LUNGE
10. MEDICINE BALL SLAM!
PERFORM THE EXERCISES AS A CIRCUIT
(ONE EXERCISE RIGHT AFTER THE OTHER)
PERFORM EACH EXERCISE FOR 30 SECONDS
TAKE A 15 SECOND BREAK AT THE END OF EACH EXERCISE
AFTER EXECUTING ALL TEN EXERCISES TAKE A
1 MINUTE BREAK
PERFORM 3 CIRCUITS
:GHXDFMD10492172
WARNING: All information on this site provided is of a general nature and is furnished only for educational/entertainment purposes only. No information is to be taken as medical or other health advice pertaining to any individual specific health or medical condition. You agree that use of this information is at your own risk.
Leave a Reply