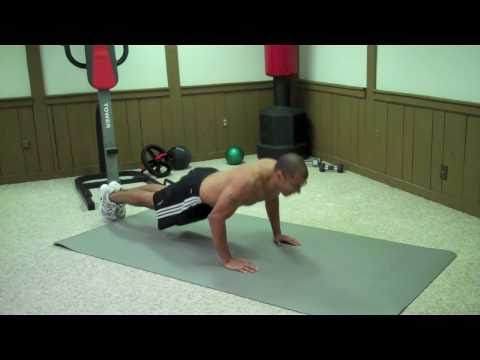 Want to get a massive chest? I think most guys would say yeah! Having a big
cut chest is a sign of strength and power. Men's Fitness has put together a
solid routine that will help you get a solid chest in six weeks.
Frequency:
Perform Day 1 and Day 2 workout once a week.
Train other muscle groups on other days. Allow 3 days of rest between
workouts. Take two days off from lifting.
Rest between sets as needed.  Personally, I rest  30 seconds to obtain a
leaner result.  For strength and size gain I rest for a minute.
*Note – Day 1's workout is short you may want to do some extra back work.
Time needed:
30 – 40 minutes
1. Plyo Pushup
Sets: 6
Reps: 6-8
2. Dumbbell Bench Press
Sets: 5
Reps: 8-10

3. Feet – Elevated Pushup
Sets: 4
Reps: 10-12
Day 2
1. Crossover Pushup
Sets: 3
Reps: 20-24
2. Bench Press
Sets: 2
Reps: 20-25
3. Incline Dumbbells
Sets: 2
Reps: 15 – 20
4. 100 Pushups
Do as many sets as needed to get to 100
WARNING: All information on this site provided is of a general nature and is furnished only for educational/entertainment purposes only. No information is to be taken as medical or other health advice pertaining to any individual specific health or medical condition. You agree that use of this information is at your own risk.
Leave a Reply