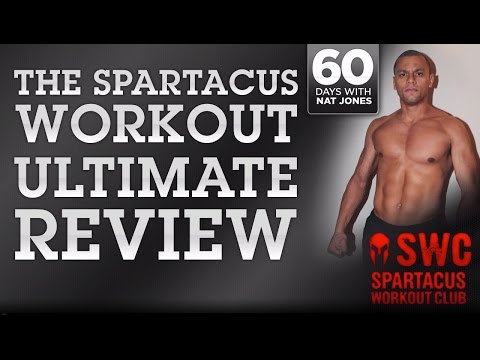 I decided to make a second video on the Spartacus workout due to all the questions that I've received on my first video. This new video contains tips for both beginners and advance users.
Here are all the links that are in my video.
Track your progress download the workout sheet
Keep your pacing and timing download the mp3
Join the Spartacus Workout Club get inspired, learn and share!
A site that will focus on more extreme workouts.
Subscribe to my Youtube channel
Advice for Beginners:
The Spartacus Workout is a really intense workout, it may make you throw up or faint. I am not joking when I say this. I have had two friends of mine throw up and almost faint.
1. If you haven't worked out in a while or your not used to doing intense circuit training, don't try to be superman or superwoman! Pace yourself.
Men's Health suggest that if you cannot complete the exercise for the full minute do 15 to 20 reps instead.
Another method you can try is doing as many reps as you can within 30 seconds or 45 seconds. Then resting the remainder of the 60 seconds plus the 15 seconds rest as well. So the math looks something like this.
You go all out with x reps for 45 seconds. You rest for the remainder of the 60 seconds which is 15 seconds plus the rest period of 15 seconds. This gives you a total of 30 seconds of rest. I created a printable pdf so you can keep track of how long you can do an exercise for.
In my personal experience things start going south for me during my 3 circuit.
2. Press your internal pause button, take small breaks at the beginning and end of an exercise. This will help you get through the whole 60 seconds.
3. Counting in 10's I don't know why but counting in from 1 to 10 helps me push through.  When I get to 10 I start over from 1 basically what I tell myself is that there is only 10 reps to focus on and it helps sometimes. ; )
4. Weight – The amount of weight you should lift according to Men's Health is weight that is challenging, which basically means you should be able to lift it for a minute. I say go light! Then build from there.
Just like any other workout increase your weight as your body gets used to the exercise and you get stronger.
5. There is nothing wrong with modifying.  Two exercises within the Spartacus workout the Split Jumps and Dumbbell side lunge and touch are both exercises you can modify, the new video shows you how. Once again as your body gets used to the exercises and stronger you will be able to do more.
Advance users:
Personally I've done this workout allot, I am at the point where I cycle it into my workouts every 2 to 3 weeks.
This depends on whether or not I am reviewing a workout or not. I get bored really quick with my workouts so I have discovered a couple of tricks to keep the Spartacus workout interesting and making it harder.
1. Goblet Squat – Move the weight slightly away from your chest. Your core and arms will start to shake and your making both of them work even harder.
Prison Squat Goblet Squat variation done without weights with hands behind head.
2. Mountain Climber – Do them with the exercise ball.  Feeling is believing by the 10th rep you will feel it.
3. Single arm dumbbell swing – rolling up to the tips of your toes will make your calves work as well.
If you have kettle bells doing both arms at the same time will only help you get more stronger and ripped.
4. T Push up – Go heavy with the modified exercise. (Watch video.)
5. Split Jump – Adding light weight and feel the burn.
6. Dumbbell Row – You can get a little extra workout by adding a twisting motion to the weight as you lift it up and down.
7. Push up Position row – add in a push up then perform the row. This is hardcore.
8. Dumbbell side lunge and touch – add a squat half way through the motion for more leg impact.
9. Dumbbell lunge and rotation – double the rotation for more ab impact, go to one side then the other.
10. Dumbbell push press – add in the Arnold press to hit your shoulders at all angles and to make this exercise harder.
Mix all of some of these extra moves into the Spartacus workout to keep it fresh.
One of the most crucial elements to the Spartacus workout is timing and pacing.  If you're not watching the clock and exercising for the allotted time then you won't get the impact you need for this routine.
Workout Muse's Spartacus workout track is a must have to help you keep your focus and timing.
The person on the track does everything for you, tells you the number of exercise you're on, timing, rest periods and circuit.  It does it all so all you need to do is focus on the exercise.
Other questions about the Spartacus workout
Can I do it with other exercises or activities?
I say yes, as long as you don't feel over trained and it fits into your goals.
If you're looking to gain muscles you need to rest more.  So make sure you get a least two days of rest.
Here are a couple of things I have done with this workout.
1. It can take place of your cardio workout,  I have used it as my cardio.
2. Combined the Spartacus workout three day split giving me a total of 6 days of working out and one day of rest.
3. Combined the Spartacus workout with two heavy lifting days, giving me 2 days of rest.
4. Doing the Spartacus workout for 2 days and combing it with a 3 day split giving me 2 days of rest.
The rule of thumb is how do you feel and what are your goals.  Men's health the big book of exercise also has workouts that you can combine with the Spartacus workout.
What weights am I using in the video?
Powerblocks adjustable weights click here to see the website.
What weight do I use on the exercises.
Remember you should use me as a guide to how much you can lift etc. Lift with what you feel comfortable with.
1. Goblet Squat – 40 to 50 lbs around 20 – 30 reps
2. Mountain Climber – 30 to 60 reps depending on circuit on the 3rd circuit I am wiped.
3. Single arm dumbbell swing – 30 lbs 20 reps per arm or 30 reps with two kettle bells.
4. T Push up – 20 to 30 lbs 12 to 16 reps
5. Split Jump – 20 reps if I am lucky
6. Dumbbell Row – 35 lbs 20 reps
7. Push up Position row – 30 lbs 20 reps
8. Dumbbell side lunge and touch – 30 to 35 pounds 20 reps
9. Dumbbell lunge and rotation – 30 lbs 20 reps
10. Dumbbell push press – 35 to 40 lbs 20 to 25 reps
Diet?
I follow some basic principles about what I eat.
1. I eat high fiber foods, high fiber foods make you feel more full therefore you eat less.
2. I get protein from shakes, bars, fish, chicken and red meat (once a week)
3. Whole grain pastas and breads for my carbs.
4. I avoid anything with refined sugar or enriched flours.
5. NO SODA!
6. I limit my alcohol consumption.
7. Drink plenty of water.
8. Seven small meals a day vs. three big meals
9. When I cheat I do it in small portions and divide them up during the week.
10. Always have healthy snacks and a game plan about what I will eat during the day.  Having a game plan makes it easier to keep your diet on track.
I hope you found this useful.
WARNING: All information on this site provided is of a general nature and is furnished only for educational/entertainment purposes only. No information is to be taken as medical or other health advice pertaining to any individual specific health or medical condition. You agree that use of this information is at your own risk.
3 Responses to "Spartacus Ultimate Workout Review"
Great article on EPOC | 60 DAYS WITH NAT JONES | TESTING FITNESS PRODUCTS FOR 60 DAYS Says:
July 26th, 2011 at 11:01 pm

[…] increasing your body's energy expenditure, allowing you to burn more fat. Workouts like the Spartacus Workout One and Two, the Kick Ass Body weight workout and the 125 challenge do exactly that. Check the […]

Joanna Says:
August 22nd, 2014 at 4:19 pm

Can females do this workout?

admin Says:
September 16th, 2014 at 11:40 am

Yes females can totally do this workout, it was developed by the Cosgroves its for both men and women.
http://www.womenshealthmag.com/fitness/spartacus-fitness-plan
Leave a Reply